Since 2007
ELEONES ZAKROS OLIVE OIL
---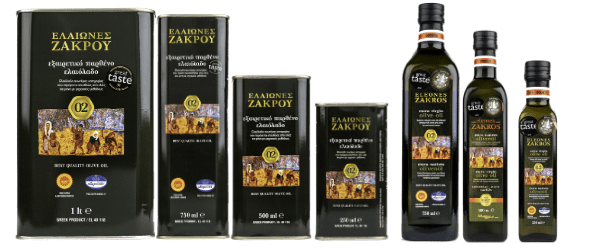 ELEONES ZAKROS EXTRA VIRGIN
---

---
Zakros olive oil P.D.O. Sitia. Our Olives are harvested traditionally and the oil is cold-extracted to preserve its natural flavor & high nutritional value. Golden color olive oil, with green hues, and intense, grassy aroma with light notes of citrus & herbs. Overall balanced and delicate taste, with a touch of bitterness and a pleasant, not overpowering, peppery finish.
Very low acidity, high in polyphenols, with antioxidant and anti-inflammatory properties.
Available packaging options:
bottles: 250ml / 500ml / 750ml / 100ml
tins: 5l / 3l / 1l / 750ml / 500ml / 250ml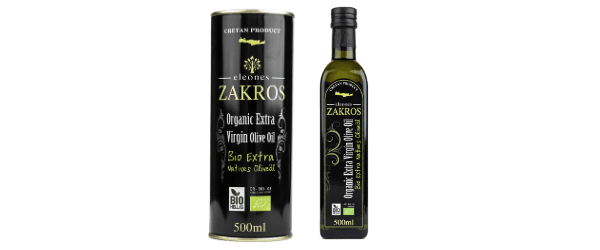 ELEONES ZAKROS ORGANIC
---

---
Our "Organic" Extra Virgin Olive Oil is an organic farming product which is cultivated using only natural organic supplies and traditional methods. Where tradition meets science, producing an exceptionally healthy & traditional product, that is safe for consumption and the ecosystem. Green-golden color with a light fruity taste. High in Polyphenols.
Organic Olive Oil Eleones Zakros is certified and controlled by BIO-HELLAS, a Greek ecological control organization recognized from the EU.
Available packaging options:
bottles: 500ml
tins: 500ml / 250ml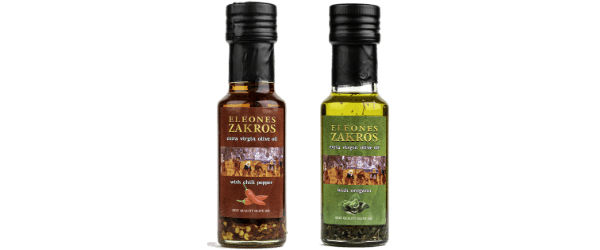 ELEONES ZAKROS FLAVORED
---

---
Extra virgin olive oil with fresh chili peppers or oregano. This uniquely fruity olive oil with fresh chili peppers or oregano has no artificial flavors, no artificial essential oils or flavor enhancers. Only the best olive oil from Zakros with fresh chili or fresh oregano. Perfect for all Mediterranean dishes and salads.
Available packing options: bottle 100ml
Eleones Zakros Extra Virgin Olive Oil, sourced from our family-owned business and produced exclusively from Koroneiki olives, grown in the village of Zakros on the easternmost coast of Crete, the Sitia region, one of the most renowned areas in Greece for the production of superior quality extra virgin olive oil.
---

---
The Koroneiki olive is considered worldwide as one of the best cultivars with a high yield, producing an excellent quality olive oil, rich in organoleptic substances and vitamins with a low acidity.

---