ETEON NATURAL PRODUCTS FROM SITIA CRETE
---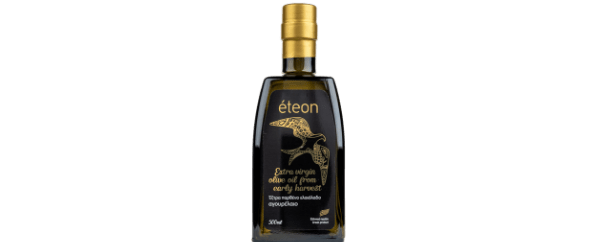 ETEON EARLY HARVEST
---

---
Our Early Harvest Extra Virgin Olive Oil comes from olives collected at the very beginning of October. Early Harvest Olive Oil has a special and distinctive flavor, more fresh, bitter, spicy and intense. It has a very low acidity and is very rich in Polyphenols, natural antioxidants. Its production is limited.
Available packing options:
bottle 500ml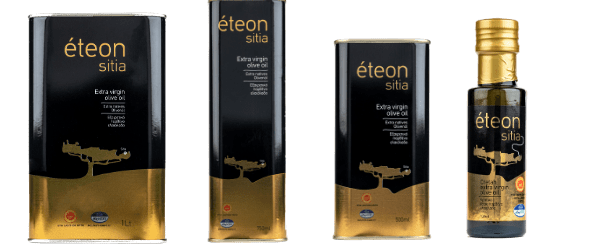 ETEON EXTRA VIRGIN OLIVE OIL P.D.O. SITIA
---

---
This extraordinary olive oil is from the Koroneiki olive, from olive trees in Sitia, on the most eastern part of Crete. It has a golden green color, a very mild and fruity taste and is high in Polyphenols and antioxidants.
Available packing options:
tins: 1l / 750ml / 500ml / 250ml bottles: 100ml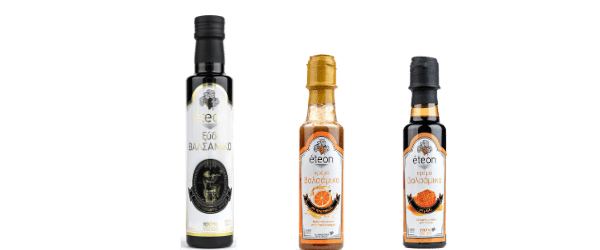 CRETAN BALSAMIC VINGAR AND CREAMS
---

---
Eteon balsamic vinegar comes from sweet red grape must, that matures in wooden barrels together with Cretan herbs. These herbs, that have been hand-picked from the Cretan mountains give this balsamic vinegar the extraordinary Cretan flavor.
Our balsamic creams with orange or honey are made of pure Cretan ingredients. This finest aromatic combination gives a delicious touch to every plate.
Available packing options:
Eteon balsamic vinegar:glass bottle 250ml
Eteon balsamic creams: plastic squeeze bottle 200ml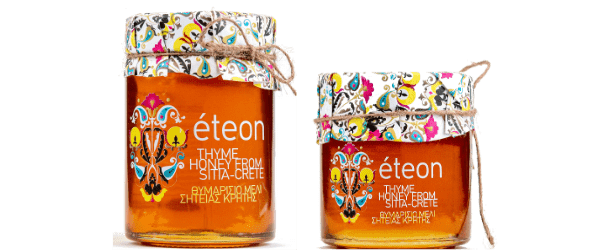 ETEON THYME HONEY FROM SITIA
---

---
The unpolluted nature, the rich flora and the low-rain climate of the eastern Cretan mountains are considered the best production area for thyme honey. By transporting the beehives from low to higher altitudes (up to 1500 m above sea level), the short thyme bloom can be followed from June to the end of August.
An excellent, single-variety honey with a unique aroma, fine-spicy taste and with a light, bright reddish color.
Available packing options
jars: 460gr / 280gr
Εteon meant for our ancient ancestors the genuine, the authentic. Eteon is the name we chose for our pure authentic products. Eteon products are agricultural, traditional products from the wider area of Sitia Crete
---

---
Our family-owned business produces and markets high-value nutrition products. In addition to the excellent Eteon olive oil P.D.O. Sitia the Eteon range features genuine thyme honey, balsamic vinegar and balsamic creams. Part of our philosophy is to combine tradition with modern knowledge and to offer delicious delicacies with our pure products and the aromas of the Cretan land.